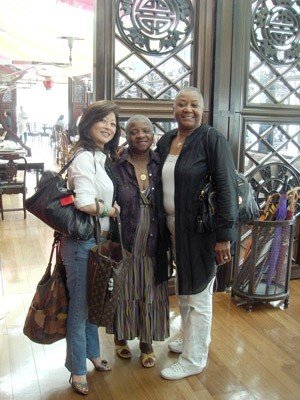 A very Extraordinary Mother's Day………
A Hollywood Mum came knocking on my door ! I was very delighted and absolutely honored to be invited to have a private luncheon with some VVIP guests from USA. They happened to be the mother (Mrs. Carolyn Smith) and family members of Hollywood 'A' List actor, Will Smith.
The lunch was held in a very exclusive (members only) club – The China Club Singapore (part of The China Clubs in Hong Kong & Beijing).  This is a fabulous restaurant with exotic Oriental decorations that offers not only delicious traditional Chinese gourmet but it also has superbly good personalized service. Interesting enough the restaurant is located on the highest 52nd floor of Singapore's premium commercial tower in the Central Business District, Capital Tower. It is the forth tallest skyscraper in Singapore and it is known that the structure of this building has been built in line with a lot of Feng Shui guidelines & applications.
The address of Capital Tower is the auspicious number 168 Robinson Road. The exterior entrance of the building has numerous display ornaments that reflect Yang colors of the 5 elements installed at the Yang Water features. In the man-made pond, you will see abundance of beautiful koi fishes swimming happily in the pond. When you enter into the building, you will be overwhelmed by the interior lobby as it opens to a wide big hall. Most of the structures do not have sharp edges (that can be deemed as poison arrows). All the furnishings (including lightings & lamps) have rounded edge and even their directory board is shaped like a huge semi round ball.  The ambience is simply magnificent with the nice aroma of coffee from Starbucks on the ground floor.  The anchor tenant is no other than our very own Government of Singapore Investment Corporation (GIC).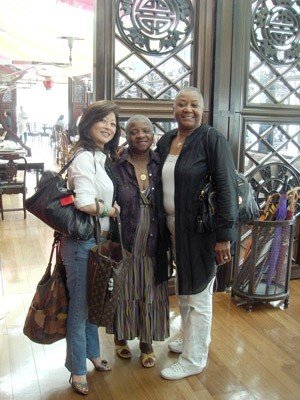 I was so blown away to have the opportunity to meet and to have lunch with these two wonderful bubbly ladies. It is so amazing that although that was the first time we met, I can feel the warmth and friendliness of Mrs. Smith.  She is in her seventies and she looks hot for her age ! Her figure hugging clothes and superbly crew cut short hair does give her a real sassy look.
From Left to Right :
Amelia, Betsy & Mrs. Carolyn Smith
Since we were seated at the window area, I gave them a brief orientation of the various popular landmarks, skyscrapers, historical buildings, Singapore River, etc., and how some of these structures have Feng Shui connotations as well. I also enlightened to them about the Oriental decor in the restaurant and the auspicious meaning of certain symbols that were being displayed.  While waiting for the food, we had a rather lively interactive discussion about modern Feng Shui, its applications and benefits.  They were thrilled when I explained to them about the elements & energies surrounding us, how each element can be used as remedies for certain afflictions and enhancers for good energies; and how each element can re-act differently on each individual person base on the person's gender, date & time of birth. They were also fascinated with the jewelries, especially my jade bangle that I wore that day – which I also explained to them that I wore the jewelry pieces because the elements were in sync with my own personal elements.  When they learned that we also have a boutique that sells auspicious gifts, they quickly informed their coordinator to arrange for them to go to our boutique immediately after lunch.
We had such hilarious moments when the food was served – from being curious on each gourmet dish being served, to the art of using a slim pair of white jade chopsticks. The true fun was especially when we were served with the Superior Double Boiled Birds Nest Soup. Apparently they were not very adventurous with food and initially they found it quite difficult to accept the delicacy when I explained about Birds Nest, i.e. where the Birds Nest came from, the method of preparing, etc., etc. However, when I told them about the nourishment and benefits of this unique delicacy that is also good for the skin, they did not hesitate to finish the soup. They mentioned that at their age, they will take anything that will make them look good & young again! It was truly a very fun-filled lunch with lots of interesting conversations, laughter and the feeling of warmth & love. I feel as though I have been acquainted with them for a long time already.
When we finished our lunch, it was time to snap some pictures and we were soon on our way to our boutique. Both ladies were rather excited when they reached our boutique. Mrs. Smith & Betsy purchased a variety of gifts to bring home for their family members. They mentioned that their family members will be thrilled with the auspicious gift items.  We also specially selected some items for her son, Will Smith and grandson, Jaden (who acted in Karate Kid together with Hong Kong famous actor, Jacky Chan). Mrs. Smith was particularly keen with our assortment of fine jade jewelries.
It was truly a memorable Mother's day – having spent it with two very fabulous ladies. I will miss them and cannot wait see them & their family soon for the audit of their properties in Philadelphia and Los Angeles, USA
Will Smith's son, Jaden Smith, is fast becoming like his famous father. At a young age of 12 years old, he has already teamed up with Hong Kong A list actor, Jacky Chan.  He succeeded in one year of grueling kungfu training to star in mega movie Karate Kid that top box office charts with impressive US$ 56 million !