Playing Feng Shui Detective in Singapore's Renowned Resort & Casino – Marina Bay Sands Singapore (MBS)
It is well known that casinos around the world (not only in Singapore) apply the Principles of Feng Shui (even the Western ones) to further heighten their odds against its patrons.
Marina Bay Sands (MBS) is considered to be the prime and most expensive development project (costing almost $5.4 billion) on a 51 acre of prime waterfront site close to the heart of Singapore Financial District. With the magnitude of its development, it is deemed as one of the most expensive casino resort project so far.
The person behind this stunning architectural design is renowned architect, Moshe Safdie. According to him, "Marina Bay Sands is truly more than a building project, it is a microcosm of a city entrenched in Singapore's culture and contemporary life style." It is said that Safdie desired the building to capture the essence of Singapore as a garden city, transform it into an iconic building and the first of its kind – blending it with good metropolitan taste & design. It indeed has a dynamic integration between Art & Architecture.
MBS Casino was officially opened at the auspicious hour of 3.18pm on April 27, 2010, followed by the grand opening of its Shoppes Mall on 23rd June.  The Sky Park opened the next day, also at the auspicious hour of 10.18am.
MBS had always been the subject of critics and debates whether the shape and design is truly auspicious.  Many regard the three Hotel Towers are similar to the Chinese Ancestral Tablet (Tombstone), which is deemed to be rather inauspicious.  However, many argued that it is not the case as Ancestral Tablets are normally straight, whereas MBS Towers are curved in structure.
The Three Towers – Represents 3 Mountains or 3 Warriors protecting the Gateway to Singapore.  They are also deemed as great "Support" for the Casino and The Shoppes. Interesting to note that the entire development is sitting East and facing West. Thus, for this period 8 West facing development, there is the auspicious Water Star 8 & Mountain Star 8 at the front.
NOTE:
Water Star – Brings Prosperity, Financial & Wealth Luck
Mountain Star – Brings Good Support and Good Relations/Networking Luck
However, it is known that things had not been entirely smooth sailing for MBS since it opened its doors, as it ran into some legal issues & legal entanglements with the Inter-Pacific Bar Association (Law society); and there were some employees issues again when it implemented the unfavorable contentious demerit policy to its employees sometime in early 2011.  This is not surprising because the Quarrelsome/ Argumentative Star no. 3 (which can potentially bring disputes & legal entanglement), is located at the Sitting Palace of the premises. This is especially when it has a huge infinity pool right at the top of the Skypark.  It is not going to help much either with the opening of Gardens by the Bay, as the Wood element in the Garden will further provoke the activation of the number 3 hostility.  It is however, quite fortunate that in this Sitting East Palace, the Mountain Star makes a "perfect 10" combination, that perhaps can somewhat help to suppress the quarrelsome energy and to bring some good harmony & settlement, in the event of disputes and/or legal entanglements.
The other auspicious structures are:
Looks like a representation of a "Scholars Hat" – symbolizes new skills and knowledge been acquired.
Comes in the shape of a divine Lotus, or the shape of an Open Palm, representing gesture of "Welcome" and "Receiving Luck from Heaven".
Signifies three auspicious Coins that represent Prosperity, and the replica of Tortoise Shell shape signifies Longevity.
Located close to the Event Plaza, this art piece of Twirling Water is an icon that signifies "Wealth Being Collected" or "Collecting Wealth".
Water – brings abundance of Wealth.
It is believed that the Integrated Casino Resort has the complete 5 elements in the entire premises, i.e.
Water – Surrounding the Premises
Metal – Silver Façade
Wood – All the Greenery in the surrounding & upcoming Garden City
Fire & Earth – All the Bright Lights and Yang Business Activities in the entire complex
The "Golden Eye Light" on Casino Ceiling infuses Yang energies into the casino and it is also a way of capturing and focusing energy.
Red deco is a major feature as shown in picture as Red is symbolic and auspicious in Feng Shui practice. It is also said that people will actually gamble more and make higher bets when exposed to massive RED color, especially in a place such as MBS casino.
The metallic structure deco above looks like 2 fishes swimming in a circle – similar to Yin & Yang formation.  This signifies profusions of money and prosperity for the casino.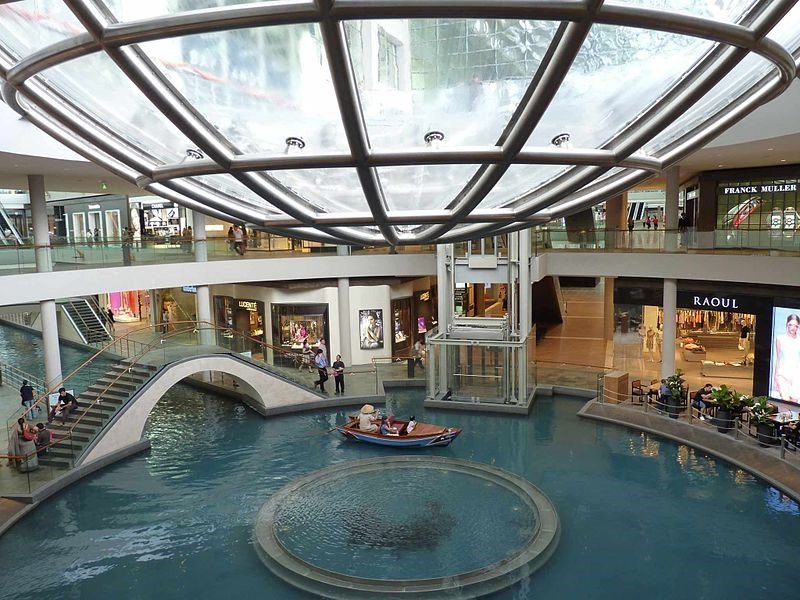 It is believed that one will gain higher gaming luck when he/she throws 3 coins into this enormous water feature that is located in The Shoppes – prior to entering the casino.
There is a canal that connects to this colossal water feature that runs through the entire length of The Shoppes – same style as The Venetian in Vegas, that comes with Gondola ride. It is also believed that the water here also symbolically bring continuous flow of wealth for the casino.
Some Tips to Improve your Gambling Luck:
Choose a good day and good time that is favorable & auspicious for you.
It should not be a day that clashes with your horoscope animal sign.  Play during the auspicious hours (Note :  You can easily find your good day & time from WOFS Almanac calendar).
You must have a positive happy state of mind on the day you gamble. Not advisable to try your luck when you are sick, tired & exhausted, or when you just had some hostile arguments with someone.
Do NOT enter the casino by the Front Main Entrance. It is better to enter via side entrances from the shopping mall (i.e. The Shoppes).

Locate your favorable facing directions. You should always face your favorable facing directions (especially your Sheng Chi – Wealth & Success direction) when you gamble.

Look out for "poison arrows". Ensure that there are no sharp hostile edges or objects facing you from all angles.
DO NOT SIT :
With Your Back facing to any Doors

Directly underneath any beams

On a chair that has a hole at the back (your luck will seep away). In circumstances like this, it is better to stand & face your Sheng Chi direction)

Facing the Toilet

Facing an Escalator that is going downwards

Facing any sharp edges, garbage areas and/or any other inauspicious facing
Last but not least, always carry some Auspicious Amulets with you to enhance your good luck in your gaming !  Do have some clean fun but do not indulge in habit of gaming in casino, as one cannot always outdo the strong & zealous energies of the casino.