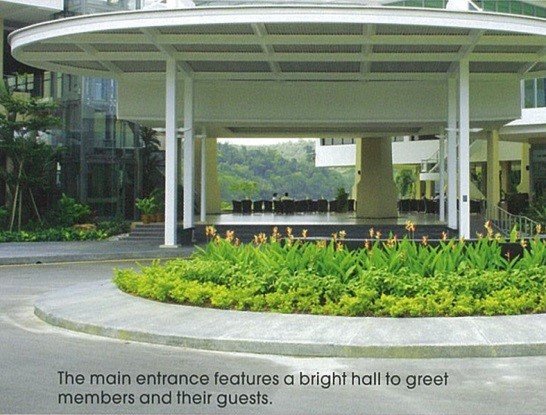 GOLFING WITH GOOD FENG SHUI ……..
Raffles Golf Country Club is one of most popular golf courses in Singapore. It is located about 40 minutes' drive from Singapore bustling Central Business area.  It is one of the rare properties in Singapore where its spectacular scenery of lush green fields, tranquility of a beautiful lake (which is actually a reservoir) and the rolling green hills beyond, is indeed breathtaking.  The view is so magnificent that many wedding solemnizations are being held at the banquet hall foyer that is facing to this beautiful tranquil scenery.
Situated amidst 148 hectares of luscious land, it houses two 18 holes golf courses – the Lake Course and the Palm Course.  Being an avid golfer myself and who had played several times on this course, I must say that, not only this is a beautiful golf course with breathtaking views, it is also a rather interesting and challenging golf course.
This golf course was opened back in year 1988 during period 7.  It has been more than 16 years since it opened, the golf club had somewhat lost its lustrous condition and the energy has somewhat became stale especially when the new period 8 energy sets in since early 2004.  Finally, the club management together with its community decided to carry out a massive refurbishment and to convert this period 7 premises to a vibrant period 8 golf club.
Together with their appointed architects, we work closely with them to transform the "aging" golf club to current Period 8, so that the Club can benefit from the fresh yang energy of the current period.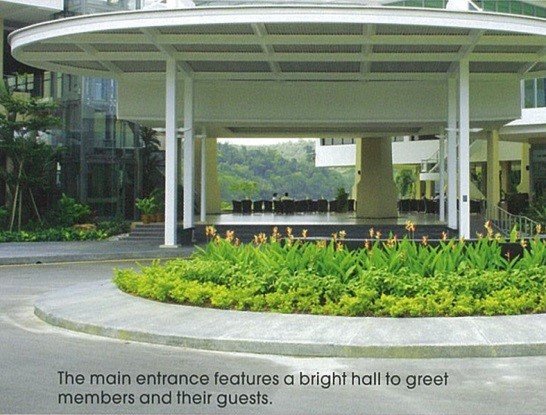 The front facing direction of the club is West 2, with the scenic view of water reservoir and rolling green hills at the back. Period 8 West 2 properties enjoy auspicious double 8 at the front. This combination is indeed auspicious as double 8 can potentially bring lots of good fortune, good prosperity, good business, and good popularity. Therefore, it is important to ensure that the front entrance is correctly positioned, and designed in such a way that the Club can tap onto this lucky combination.  Thus, all the old partitions, glass doors, etc. were removed. One will then enjoy the welcoming warm "bright hall" overlooking the breathtaking scenic reservoir and rolling green hills, when one drop off from the car and enter into this foyer area.
We advised that the front entrance should "open-up" to a bright hall as all Period 8 premises truly benefits from an open space "bright hall" effect.  It is considered excellent Feng Shui and very auspicious that can bring incredible good luck.
It was also recommended for a 6 tier water feature (carved out from a rock formation) to be installed at the front with water gently flowing down each of the tier towards the front main entrance – signifying "wealth flowing inwards" to the golf club. The reason for this recommendation is to tap onto the lucky Mountain Star No. 8 (represented by the "rock formation") and lucky Water Star No. 8 (represented by the flow of water).  The 6 steps water flow signifies good Heavenly luck.  Koi fishes in auspicious numbers were also suggested to be placed in this water feature.
This recommended placement of new Water Features symbolizes:
Good Business & Good Income luck flowing towards the Club / Company.

Heaven Luck as water drops 6 times from 6 gentle steps.

Water collected in a pool – money comes in and contained.

Plenty of business opportunity as fishes represents abundance.
Lustrous green plants were also recommended in the surrounding especially in the East (Wood) sector – signifying growth.
The old spiral staircase was also removed. Spiral staircase is a taboo in Feng Shui context, as it is not a good conduit for flow of good chi and it stiffens up one's luck. A new staircase with gentle curve was installed near the foyer.  All efforts were made to ensure that the starting or the ending of the staircase does not face directly to the main entrance, any doors, toilets or any inauspicious facing. The steps of the staircase also should not have any "gaps" in between, as "gaps between steps" can result to good luck being "sipped away".
We ensure that all toilets, storage and other inauspicious areas are located in locations with unfavorable flying stars.  The golf registration lobby is located in the auspicious sector 1/6 that can potentially bring amazing financial luck. Metal colors such as white and nice shade of contemporary gold color were recommended here to glam up the space and to enhance this lucky sector.
All new Pillars/ Columns are to be rounded to eliminate "poison arrow' afflictions.  There are some old square pillars/columns that could not be removed as they are vital structure of the building. To minimize the effects of poison arrows from these square pillars, the sharp edges were been tapered off and smoothen out. Relevant elements and colors are applied accordingly in each sector so that bad afflictions can be remedied and minimized; whilst good energies can be further enhanced and activated.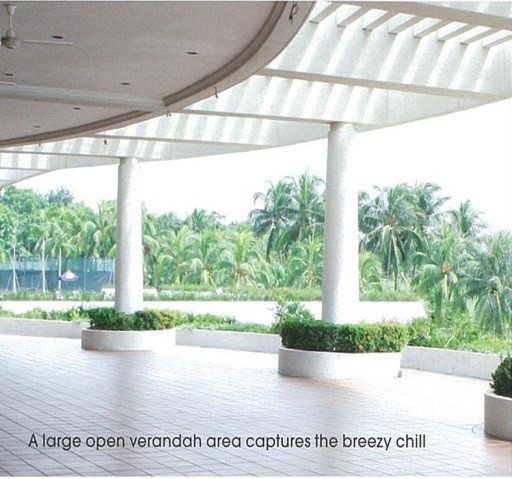 A complete make-over was done to the Registration Lobby Entrance.  This sector has some Green colors and Plants as Wood element is needed here. Green also signifies Growth. A dash of Red will help to gain some Fame & Recognition luck for the club.
Finally, all the work desks of the office key personnel were arranged in such a way that they sit and work facing their respective favorable work directions. This is to ensure that they tap on their respective good luck energies when they work -for good luck, good health, prosperity and good work harmony (with minimal office politics, etc.).
Now that all the refurbishing works are fully completed, the whole golf club house has been transformed into a warm welcoming vibrant premise. Gone are the previous stale Yin energies.  It is now a vivacious place and I am told that they are booked almost every week for major golfing events and tournaments ! For those of you who have not been to Raffles Country Club, I truly recommend you to go over there for a game of golf and enjoy the fresh new club house and newly built facilities. Even if you are not a Golfer, you should just drop by to enjoy the new effervescent place, scenic surroundings and of course, some sumptuous gourmet to satisfy your stomach !